5 benefits of Living in a 55 and Over Communities in Baton Rouge, LA
A 55+ community is perfect for people who want to enjoy an active low-maintenance lifestyle in a secure setting. There are so many benefits to living in one! Here is just five of them:
Instant Community
Convenient Location
Leisure Activities
Minimal maintenance
Quiet Neighborhood
The sense of Community in Retirement Communities
The sense of community at Williamsburg Senior Living sets it apart from any other retirement home. Studies have shown the positive effect a strong and healthy social network can have on an individual's well-being.  This positive effect is why we offer all residents endless opportunities to get involved in their new life here. Whether you enjoy gardening, writing, making arts and crafts, or just getting together over coffee every morning before breakfast service starts, there is something for everyone! Whatever your interests may be--Williamsburg Senior living provides plenty of ways to make lifelong memories among neighbors — who quickly become like family. 
The social aspects of retirement are a big selling point for people who come to live in our 55 and older community. It's not just about maintaining independence, it is also keeping friends close by! You'll have an instant community of neighbors with common interests. Activities are designed to bring you together and support the growth of relationships and social bonds at 55+.
Convenient Location:
Walk to Social Attractions
Most 55+ communities are located within a short drive or walking distance to shops, restaurants, theaters, churches and medical facilities. Communities typically offer public transportation or walking paths that lead you right on over to these everyday conveniences — meaning your car can stay parked at home. You'll have more time left in the day for doing what you love; whether it's out there in the world with friends and family or back inside of your community where everyone knows your name!
Williamsburg Senior Living is conveniently located in the heart of Baton Rouge within walking distance to many restaurants, shopping, and other mid-city merchants. Right off Government Street, in the midst of Mid City's revitalization: near restaurants Superior Grill, Government Taco, Mid City Beer Garden, Fleur De Lis, Anthony's Italian Deli, etc. The athletic senior can even enjoy scuba diving at Underwater Adventures which is right next door! The protestant community is growing everyday at Williamsburg; but for the Catholic residents, first Friday Mass with Father Cleo at Our Lady of Mercy Church (4 blocks away) is a monthly event. Every Saturday, residents attend Vigil Mass at 4 pm in Williamsburg's Chapel. Sometimes, the chapel is so packed, attendees are in the hallways all the way to the dining room!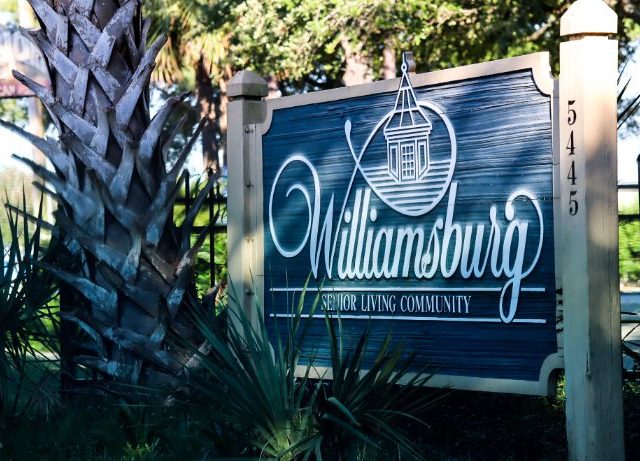 Retirement Community: Active Lifestyle Awaits

When you hit that milestone age of retirement, staying active is more important than ever. Active adults should consider a community with activities designed to keep residents mentally and physically engaged – like fitness classes, clubs, gardens, etc.
At Williamsburg, there are so many activities on the calendar. Art group, writing group, exercise class are just a few. The community also plans outside entertainment and events. Most recently for Easter, Williamsburg had an East Egg Hunt Bash. It included a bouncy house, Easter Bunny, Easter egg hunt, and more — so resident's children and grandchildren could come celebrate and have a fun time with the entire family!
A safe place to Live without the worry or Hassle
We all have to live somewhere, but it doesn't need to be a hassle. Williamsburg has floor plans that accommodate both independent and assisted living. You can do what YOU want without worrying about yard work or exterior maintenance. We provide two meals every day: breakfast and lunch which are so large that residents often bring home leftovers! So if independence matters most while caring less about trivial things such as "yardwork," then contact us today and see how affordable living can be in a 55 and over community.
55 and over Community equals Quiet Neighborhood
Research shows that living in a quiet neighborhood increases quality of life. At Williamsburg you can enjoy the social activities and interactions without the headaches of rowdy neighbors. You can enjoy the youth when they visit, but retreat into your quiet sanctuary when they are gone . At Williamsburg, you never have to worry about being awoken in the middle of the night!
There will always be someone to help when you need it
At Williamsburg and other 55 and over communities, you are never alone. Our staff and security is available 24/7 to lend a helping hand. 
We offer residents the opportunity to enjoy their golden years with dignity, independence, and peace of mind. Our community offers many amenities such as housekeeping services, transportation assistance, social events, and more!
Enjoy a low maintenance lifestyle through both our independent and assisted living services. With daily planned activities, you will have access to all your favorite community events like poker night or movie night!