We understand the importance for the golden years to be stress free and filled with love and companionship. With that in mind we have truly created an environment where residents are family. Williamsburg is staffed 24 hours a day with helpful and smiling employees that are ready to assist with any request. Our caring, respectful, and professional staff members are dedicated to our residents and we are passionate about what we do.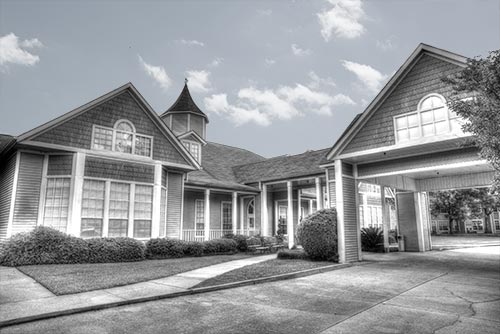 ---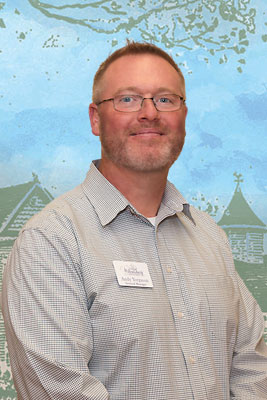 General Manager – Andrew Yorgason
Andy started with Williamsburg in 2015.  As the General Manager, he is responsible for the administration and management of community support and services, the well-being and satisfaction of community residents, and the supervision of all employees.
Andy moved to the Baton Rouge area in 2015 with his wife and two children. After spending 10 years in the Air Force as an Ejection Seat Technician, Andy's civilian career has focused on facilities and hospital management, with a specialized focus in assisted living and memory care. Since separating from the Air force in 2005, he as obtained a B.S in Organizational Management and M.B.A in Human Resource Management.
Andy has chosen this career path because he enjoys getting to know the residents and their families, and working to ensure they are happy and well cared for.  His goal is to always maintain a warm and welcoming environment where people are treated with dignity and respect while encouraging independence.
---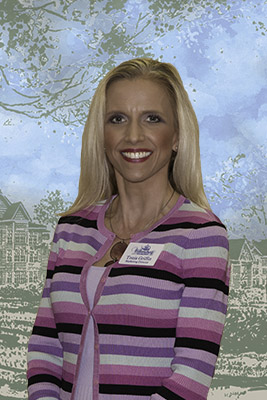 ---
Marketing Director – Tonia Griffin
---
Williamsburg had only been open for a year and a half, when Tonia Griffin began her career as the Social Activities Director in 1989. Tonia fell in love with Senior Adults as the Social Activities Director and was here for over 10 years. Tonia then moved forward to complete her degree at LSU working in the telecommunications/technology sales. Tonia's passion for working with Seniors prompted her return to Williamsburg as the Marketing Director. She is so happy and excited to be back home. Tonia is a native of Baton Rouge and loves running with the local Varsity Sports running group.
---
---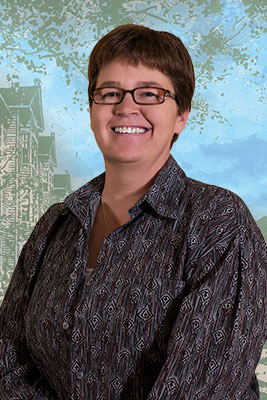 Health Services Director – Cheri Strickland
Cheri started at Williamsburg in 2004 as a Personal Care Assistant.  Cheri supervises the residents' health care at Williamsburg.  Working with her wonderful staff she reviews the medical history and medications of all the residents at Williamsburg.  She works directly with residents' doctors to help develop and maintain a health plan for every resident and assist with their medications.
Cheri has lived right across the Mississippi River in West Baton Rouge Parish for over 30 years.  In her free time she loves to read and study the sciences.  In fact Cheri majored in Human Biology and minored in Chemistry at Our Lady of the Lake.  Her original plan was to go into forensic science but working at Williamsburg was so enjoyable and gratifying that she changed her professional life plan and has been with us ever since.
---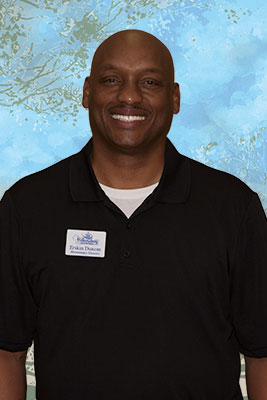 ---
Maintenance Director – Erskin Duncan
---
Erskin Duncan began his career with Williamsburg in 2015. His experience stems from his first opportunity given 27 years ago in facility management as a groundskeeper in Madisonville; where he became certified as an HVAC technician. Over the years, Erskin has managed the maintenance of several apartment complexes while also owning/operating his own janitorial franchise. Over the last few years, Erskin has served our senior population in the Assisted Living environment and is eager to join our team at Williamsburg.
---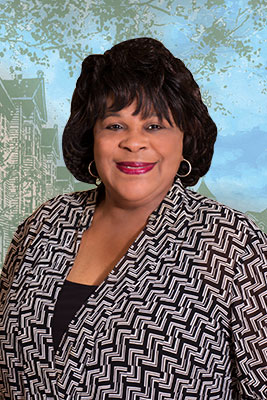 ---
Housekeeping Director – Margarette Brady
---
As the Director of Housekeeping, Margarette's mission is to provide a safe and clean environment for the residents of Williamsburg.   She supervises and assists the housekeepers that clean each Independent Living Apartment once a week and each Assisted Living Apartment twice a week.   That's in addition to keeping the rest of Williamsburg beautiful every single day.
Margarette has been with Williamsburg for over 25 years which makes her the longest tenured employee that is currently on staff.  Her smile and positive personality is remarkably contagious.  You can't help but come away from any interaction with Margarette feeling great.  All of this in addition to her amazing work ethic has made Williamsburg that much more of an amazing experience for all our residents.
Margarette lives in Baton Rouge and enjoys watching classic movies and TV shows as well as listening to old music.  Her eyes light up when she starts talking about stars such as Betty Davis and Natalie Wood, as well as musicians like the greats Otis Redding and the "Man in Black" calling Johnny Cash by his nickname.   She quickly named "Leave it to Beaver", "Andy Griffith", "Gunsmoke", and the more recent "Full House" as wonderful wholesome shows that she loves to watch.
---
---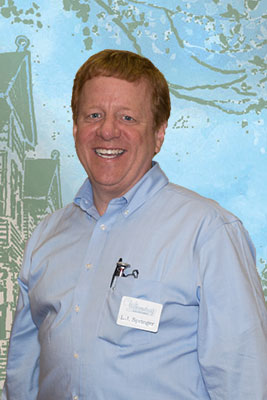 Food Services Director – LJ Springer
LJ is in charge of running the kitchen.  He manages the staff, orders all of our food and kitchen supplies, and develops the menu that we eat every day.
LJ was raised in New Orleans and graduated from Jesuit High School.  He went on to study business and marketing at Louisiana State University. From there he took the opportunity to start in the restaurant industry where he has held positions ranging from kitchen manager to general manager.  LJ had the opportunity to live in California and Florida as well as Louisiana while working for Piccadilly for 29 years.
LJ and his wife, Dell, live in Baton Rouge and are very proud of their three adult children.  LJ loves watching all sports and is a die-hard LSU fan.
---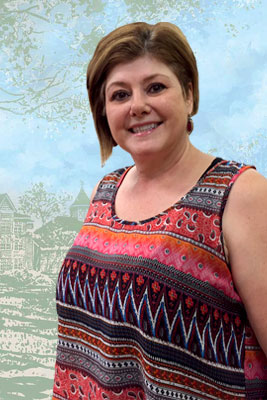 ---
Social Activities Director – Sarah Thomas
---
Starting in October 2016, Sarah took the position as Social Activities Director at Williamsburg Senior Living Community. With a love of life and laughter this is the perfect position for a professional Chaos Coordinator.  Sarah is a Kentucky native and traveled extensively before finally settling in the South Louisiana area. She studied in France and holds dual Masters in Business Administration and Health Care Management.  In addition to four children and a couple grand dogs, Sarah has chickens, an organic garden and loves flowers, antique linens, old dishes and history.  You can take the girl out of the country but you cannot take the country out of the girl.